The Leading SEO Company Since
2003
There simply isn't an SEO Company out there with more experience with more results working on the world's toughest keywords for some of the highest-volume websites in the world.
Our founder started implementing SEO techniques in 1999, today we are one of the largest group of SEO professionals spanning the globe. Let's talk about how we can help you achieve your goals.
Driving traffic for leading brands
🌎 National SEO
📌 Local SEO
⭐ Reputation Management
🛒 Ecommerce SEO
📰 SEO for Publications (News SEO)
🌎 National SEO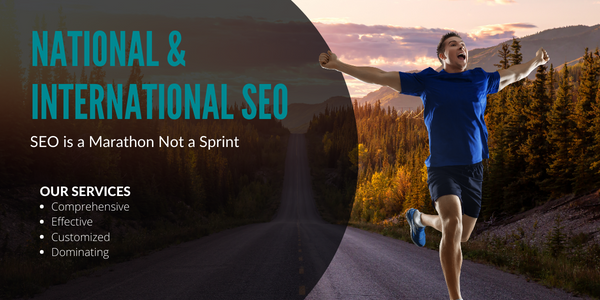 SEOCompany.com provides comprehensive national SEO services to help businesses increase their visibility in the search engine results pages. Our services include:
Keyword research
On-page optimization
White Hat link building
Content creation
and more.
National SEO can be a challenge for businesses trying to reach a broader audience, which is why we offer customized national SEO packages tailored to meet our clients' specific needs. With our SEO team of experienced SEO professionals and our commitment to providing quality service, we can help you achieve your goals of increased visibility and higher rankings in the search engine results pages. Contact us today to learn more about our national SEO services and how we can help you get the results you're looking for.
📌 Local SEO
⭐ Reputation Management
🛒 Ecommerce SEO
📰 SEO for Publications (News SEO)
An SEO Company That Works Hard For Its Clients
Avg client stays in Months
The Number 1 Complaint About SEO Companies
We've been in the SEO Industry for a really long time. We are constantly reading the same complaint over and over again on the Internet. A lot of SEO Companies don't know what they're doing or don't get results. 
Problem: It's Hard to Vet SEO Companies
The problem is that it's hard to vet SEO Companies. Why? Because behind all of the sales talk, SEO companies don't show their results. When they do, it's often with flashy "case studies" that show results in percentages. Yes, a 1000% increase in traffic sounds fantastic. If the website had only one visitor, a 1000% increase means the website now has 11 visitors. Sorry, but we aren't impressed.   
 We understand. We really do. Many SEO firms talk a good talk, but they don't perform. So they rely on fancy percentages. They can't show results like what you're about to see.
Furthermore, to get these "case studies," you must give them your contact information. Don't get us wrong, that's an excellent marketing tactic (in fact, we recommend it for many of our clients), but in this case, we'll show you the data first. We're confident enough that if you look at the basic data, you'll decide that we are the right SEO Company to talk to about your project.
So Here's The
PROOF
EVIDENCE
OK Here's The SEO Ranking Results For Just One National SEO Client
We have detected that you are viewing this content on a mobile device; the data above is hard to see, the screenshot shows the results for a single client. It represents a client that started SEO services with us in 2019. The Data is provided by SEMRush. The outcomes are:
199,238 Total Keywords Ranked
Over 35,000 Keywords Ranked Top 10
Traffic Volume is 582,600 per month
Traffic Value is $602,000 per month
We invite you to visit us again on a desktop device to review the charts and information in more detail.
This is what
Amazing
Results Look Like:
We have detected you on a mobile device we know that the data above is hard to see. Make sure that you click on the (i) bullseyes to read the additional information about the report. And please consider visiting us again on a desktop device to see the data better. The data is provided by SEMRush. The outcomes  for this single client are:
23,304 Ranked Keywords that exceed a Keyword Difficulty of 85 with a search volume of 49,630,480.

78,727 Featured Snippets
126,500 Site Links
181,000 People Also Ask
4,900 Top Stories (on the date that this was written)
23,000 Knowledge Panels
The specific keywords and URLs in the chart above are blurred to maintain confidentiality. However, you can see by the length of the blurs that the keywords are mostly short in length (single words). 
While only 15 of the total 199,238 keywords are listed in the chart one exceeds 2M in search volume per month, three exceed 1.2M, six exceed 450k, the remainder all exceed 60K. 
How Do We Achieve These
Incredible
Results?
It's a Process We've Perfected Over 15 Years
Discovery Call
It All Begins Here
Click on the Icon to the left to set up a Discovery Call with our team. It all begins here. Together we will determine if you are the right fit for our program. If we determine that we are a good fit together we will move forward to a Comprehensive Initial Analysis Report (IAR)
Comprehensive Initial Analysis
Proper Prior Planning
This is the most comprehensive analysis in the SEO industry. A team of researchers will take approximately 3 weeks to assemble the data for this report. The results is a collection of over 9 reports. When completed we will schedule a delivery call which typically takes 1 1/2 hours. We ask that all stake holders from your team be present.
Complete Keyword Research
Industry Leading Process
Depending on your industry we will collect 300 - 600 target keywords. Our keyword selection process is extensive, considering keywords you may already rank for, your competitors' keywords, an internal focus group who will assess your site from a lay perspective, followed by an extensive variant search.
Site Technical Analysis
This is where the nerds come in...
The Technology Assessment determines if there are any technological issues with you website. This includes an analysis of the platform your using, its performance, in addition to structural evaluation, and site speed and lighthouse testing.
Exhaustive Competitor Research
Identify who we have to beat...
Not only do we investigate competitors to identify keyword opportunities, but we must also analyze both their strengths and weaknesses.  This analysis help determine and establish priorities.  
Site Strength Analysis
Baclink Analysis and More...
Do we have a solid start on backlinks?  At ground zero?  Understanding authoritativeness of the site is an important step to establishing priorities.  Comparing our strengths to the competition also helps in prioritizing SEO tasks.
Full Site SEO Audit
More than 150 Checkpoints
This is the basic on-page analysis of all content of the site.  Is it structured properly? We check more than 150 on-page elements to insure that content is indeed SEO "friendly".
SEO ROI Analysis
If you can't make money what's the point?
Not all keywords are created equal. Some are more competitive than others, some drive large amounts of traffic but convert poorly, some drive low amounts of traffic but have high conversion rates. We spend a huge amount of time and analysis making these determinations with you.
Delivery of Findings
Bring Coffee
Once we have collected and analyzed all of this information it's time to deliver the data to you. We don't take this step lightly.  The best SEO campaigns have involvement of the client right from the get go. Your input is not only valuable, it's necessary.
Building Strategic and Tactical Plans
The Devil is in the details.
We start with an overarching strategic plan, then break it down in to a 90 day rolling tactical plan.  What priorities needs to be accomplished and in what order?  Do you have additional resources that can be utilized for the project? Copywriter(s), Graphic Designers(s), Web Developers or designers?  Do you need us to handle all aspects or lead/coordinate a internal or external team?  
Continuous Communication
One hand MUST know what the other is doing.
Successful SEO Campaigns come from a seamless collaboration between the SEO Company and the client.  We accomplish this through a commitment to continuous communication.  We monitor every step through our project management system and scheduled weekly calls.
Relentless Monitoring and Accountability
Reporting Holds Everyone Accountable
You shouldn't have to hunt down your SEO Company for reports. We send regular reports on a cadence we agree on. While we can't guarantee results (and if any SEO Company says they can you should run) we can and do guarantee that you will be informed every step of the way with clear and concise reports on project progress reporting, Rankings, and Traffic.
We Live by the adage, "If you can't measure it, you can't manage it."
OK, So You Do Great National SEO, How About Local SEO?
📱 Mobile Users Click on each image below to see the before and after results.
Keyword: Living Trusts Attorney
Location: Orlando, FL
Keyword: Men's Custom Suits
Location: Pittsburg, PA
Keyword: Prenuptial Agreement Attorney
Location: Central FL
Keyword: Property Damage Attorney
Location: South Florida
Keyword: Real Estate Attorney
Location: Central FLorida
Keyword: Funeral Flowers
Location: Toronto CA
Well We Kick Butt at Local SEO Too...
Hardcore Answers to the Most Frequent Questions.